Do you want to remodel your home? Do you need a brand-new bathroom vanity that fits your space? Bathroom cabinets are an essential part of any well-functioning bathroom. They are your haven to relax after a long day with a warm bath or bath.
Therefore, when preparing to add furniture, a balance must be found between the ability to fit the size and style of the bathroom. However, finding the right bathroom vanity can seem challenging. But it doesn't have to be difficult if you have the right information.
So let's explore how to pick the best bathroom cabinets for your space without hesitation. If you're building a new bathroom or remodeling an old one, this bathroom vanity buying guide will give you a lot to consider. Looking to transform your bathroom vanity into a more contemporary style? Here's a guide on the perfect way to do this.
1. Analyzing Bathroom Layout
Determining the proper size for your new bathroom vanity requires a careful examination of your current bathroom layout. Ask yourself if your new dresser will leave room for the door to open like your old dresser did [I think "like" or "similar" could be substituted for "as"]. If you're considering larger bathroom vanities, do they fit into your current bathroom floor plan?
It's also important to know the location of various bathroom components, such as existing plumbing fixtures, windows, entryways, electrical panels, and outlets.
For example, a bathroom vanity is connected to a washbasin, and a faucet is connected to a house water line. Therefore, any new vanity should have more countertop space to accommodate existing plumbing and cables without difficulty. Note that it can minimize the cost of your bathroom renovation when you find a vanity that fits your current area and layout.
2. Measure Your Bathroom and Choose the Right Vanity Size
Now is the time [sentence here can start with just "thinking" and removing the highlight] to consider your floor space and decide if you want a single or double vanity. Do a layout design and measure how much space you have to make sure the furniture style [add " will " here] will fit.
These vanities are available in various widths such as 24 inches, 30 inches, 36 inches, 42 inches, 48 ​​inches, 60 inches, and 72 inches. 24 inches wide is perfect for guest baths. The 30-inch model is roomier and can store extra toiletries in smaller bathrooms. Instead, the [add "  a  " here] 36″ vanity comes with shelves and cabinets for basic toiletries. It fits perfectly in most guest bathrooms.
In the master bathroom, 42-inch, 48-inch, 60-inch, and 72-inch vanities offer plenty of room for two. You can even have your 48-inch vanity have two sinks. However, [the use of "due" rather than "owed" is suggested here], there is not enough storage space for this size due to pipeline constraints. If you have no other space to store your toiletries, choose a single vanity in this size.
However, the 60-inch unit has enough counter space for two vanities with drawers and cabinets. [I added a space between " and wide, just for reference ] The 72″ wide unit is a great choice for combining double sinks. It's also a great alternative for a kid's bathroom because of the variety of design possibilities.
However, if you have a large bathroom, you can choose both a large [vanity] vanity and a small vanity and put them together. Always remember to measure your existing vanity before you decide. After determining which size vanity is right for your bathroom space, you can move on to more detailed factors such as the vanity material, color, and popular designs available. Is your vanity made of compressed wood? We've created a detailed guide on the best way to paint compressed wood cabinets.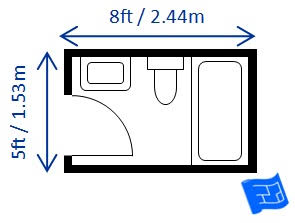 3. Vanity Height
The height of a bathroom vanity is another key factor to consider before purchasing. Children's bathroom vanities are approximately 30 inches high, guest bathroom vanities are 32 to 34 inches high, and master bathroom vanities are 36 inches high. Although most vanities are between 33 and 36 inches tall, some have no legs. So when you install them, they will be mounted on the wall.
These wall-mounted vanities allow you to customize the height of your vanity according to your needs. Wall-mounted vanities are an excellent choice for bathrooms of all sizes when the wall has sufficient column stability.
4. Choose the Right Bathroom Cabinet Material.
When deciding on the type of material for your bathroom vanity, consider the following: Will natural stone withstand high humidity and moisture levels? Is the vanity material affordable and durable? In the end, the decision is yours. You can choose from the following options:
1) Solid Wood
This is the strongest material for bathroom vanities. It brings a work of art and a timeless touch to your bathroom. Wooden materials are old. However, this is what most manufacturers prefer. One downside of solid wood is that it shrinks when [moisture] humidity levels change.
2) Plywood
Plywood is a more stable material for bathroom vanities. It's ideal for those looking for a balance between price and quality. Plywood consists of many wooden facades glued together to form stacked panels. It varies in quality, and thickness, and has impressive strength.
Compared to solid wood, plywood does not expand due to [moisture] humidity or temperature levels.
3) Medium Density Fiberboard (MDF)
MDF is a cost-effective option for those who want to keep a tight budget. In this wood, composite fibers and small pieces of wood are held together with glue or wax. MDF is often used in factories because it is stronger than plywood. MDF [fibreboard] fiberboard does not expand like wood.
However, when water passes over the surface, it can get damaged (if the seal is not good).
4) Polyvinyl Chloride (PVC)
PVC is a low-cost cabinet material currently leading the Australian market. Its uniqueness is that it is completely waterproof and resistant to high temperatures. Therefore, PVC cabinets can be used for a long time. PVC is also easier to maintain than wood surfaces.
5. Bathroom Cabinet Style
Now is the time to choose the vanity style and bathroom furniture that will suit your unit. Contemporary vanities and contemporary vanities are two of the main styles that are trending in bathroom vanity designs.
Polished surfaces and pristine finishes are standard features of modern vanity tables. A modern bathroom vanity, like Dani, may boast a one-of-a-kind minimalist design, tailored to fit small modern spaces.
Many modern bathroom vanities have solid counters. It enables you to drill holes for standard sink tops. An example is a Brighton ceramic sink or a modern vessel sink such as the Benton White Marble vessel sink.
Modern vanities are attractive and can be designed with either a single sink or a double sink vanity. You can also choose a vanity that requires a custom top.
However, if the elegant look of a dresser or vanity needs some finishing touches, contemporary styles are an option. The Abigail Vanity Set or Aiden is an example of a modern countertop bathroom vanity.
This vanity features large drawers and a bathroom cabinet to store linens, toiletries, and other bathroom items. A modern vanity with pre-installed countertops for under-mount sinks. But you can include a main vessel sink, such as the Payson Lava Granite Vessel Sink, without compromising the overall look of your vanity.
You'll also love reading about effective ways to personalize cabinet door styles at home.
6. Stylish Designs and Colors
Modern countertop decor is becoming sleek and minimal. For many people, the bathroom is where the day begins or ends. Therefore, exquisite, charming and innovative appearance is what they pursue most. When upgrading or replacing a vanity, each piece of furniture in the design must serve its unique function.
Most modern bathroom vanities feature LED reflectors and wireless speakers to help you make the most of the space. Bathroom vanity mirrors can also replace mirrored bathroom cabinets in traditional vanities. Bathroom cabinet components, such as wall cabinets and vanity mirrors, are available in sets.
White, gray, tan, baby blue, coffee, and peach are good color choices for bathroom vanities. Nonetheless, custom vanities are available in a variety of colors.
7. Sink Type
Regardless of installation method, [add "your " here] bathroom vanities have different sinks. Knowing what kind of sink you want is crucial, as most vanities will work with a specific type of sink. Single sink, double sink, container, and corner vanity are the different sinks available.
Single-sink vanities are standard in small bathrooms of small volume. Apartments, apartments, powder rooms, and guest bathrooms are great places to fix them. You can get extra storage by getting a long vanity with a single sink.
A double-sink vanity is ideal for a master bathroom. Its spaciousness allows partners to [substitute 'ready' for 'dressed' here] to 

get dressed together

. Plus, the double vanity provides more counter space for all your toiletries and essential hygiene items.
A vessel sink bathroom vanity adds a unique look to your bathroom. The beauty of container sinks is that they are less popular. When it comes to vessel sinks, you may find some designs that no one else has seen. You can also customize a vessel sink to your unique taste. The container sink is located on the vanity.
The corner sink bathroom basin is ideal when you need to save enough space. A few corner vanities are fixed to the wall, thus making the small bathroom space. They are also called integrated sinks.
Undermount sinks come in different sink shapes, such as rectangular or oval. This type is installed under the countertop.
8. Budget
Assess your financial situation. How much are you going to spend on the best vanity [add "  will" here] for your bathroom? In addition to your overall budget, keep in mind that some finishing materials come with warranties and maintenance plans. However, it depends on where you buy them.
9. Conclusion
Whether you prefer a contemporary or contemporary vanity in your finished home, NICEMOCO has you covered. We offer a variety of beautiful vanities and colors to complement your current layout.