Freestanding bathtubs are becoming more and more popular. Once considered a luxury reserved for the rich and famous, these bathtubs are now more accessible than ever, with models to suit every taste and budget.
Modern and luxurious freestanding bathtubs add impact to any bathroom decor, and with their comfortable designs to admire at your leisure, they are also a great source of relaxation. If you're considering joining this new bathroom trend, there are a number of factors to consider when deciding which freestanding tub to buy.
1. Things to consider to buy a bathroom Bathtub
Before you make your choice to buy a bathroom bathtub, there are some keys to consider, such as space, style, type.
1) Available Bathroom Space
The first thing to consider before installing a freestanding bathtub is the amount of space available in the bathroom. Are you reorganizing an existing space? Or are you looking to replace an old bathtub?
Freestanding tubs don't have to be as big as they once were; there are now a variety of sizes on the market. For example, if you have limited workspace, you can get smaller models with widths up to 60 inches, which will fit perfectly in the space left by an old-fashioned podium or alcove tub. Make sure the interior of the freestanding tub is large enough for your needs – take into account your height, weight, and the tub's intended use.
2) Bathtub Style
Freestanding bathtubs have come in a variety of styles over the years. Choose the style that best suits the look and feel of your bathroom. A free-standing bathtub can elevate the style of any bathroom, even in small spaces.
3) Types of Freestanding Bathtubs
You can choose between two models for your freestanding bathtub: one-piece or two-piece. As the name suggests, unibody models are made of only one piece. The two-piece model consists of a skirt and a tub, which are inserted into each other to form the tub.
The skirt is the more luxurious of the two, offering a variety of options in terms of styling. Two-piece tubs are usually easier to install and can often accommodate a faucet that mounts to the tub's rim. Also, if you want to install a whirl system in your tub, a two-piece model would be a better choice, as few one-piece models can include this feature.
4) Manufacturing Materials
The material of manufacture affects the style, ease of installation, and functionality of the tub.
Acrylic: A lightweight, scratch-resistant material that is easy to maintain and repair, with a modern look.
Acrylic X TM: A unique applied acrylic finish that shines brighter than fiberglass and will continue to look as new as it did from the factory thanks to its UV-resistant properties. This finish is an exclusive product of the American Bath Group.
Fiberglass: This fiberglass-reinforced resin is flexible and lightweight, making it easy to clean and repair.
Solid Surface: A mixture of resin and pure acrylic creates a high-quality material (often available in a matte or glossy finish) that offers the look and durability of stone but is lightweight.
Cast Iron: A heavy-duty, durable material that does not scratch easily and is easy to clean. However, once damaged, the material is difficult to repair. A cast iron bathtub creates an elegant, vintage look.
Copper and Stainless Steel: These chic and easy-care materials are both traditional and modern. Their heat-conducting properties allow water to remain at the same temperature for a longer period of time.
Stone: Bold, modern, and natural for a heavy-duty tub look (consider the load-bearing capacity of the floor) that will last a long time.
5) The Shape of the Model
Do you prefer an oval or rectangular bathtub? The bathtub's shape needs to match the bathroom style to create a harmonious atmosphere. Tub shapes can be transitional, traditional, or contemporary; the tubs below will give you a good idea of ​​what each style has to offer.
6)Faucets
All that's left is the type of faucet you want to add to your tub. Whether on the edge of the bathtub, self-supporting (on the floor) or recessed into the wall, this is an important detail that should not be overlooked. The faucet style you choose can really change the look of your tub and have a big impact on your bathing experience.
2. How to choose a Freestanding Bathtub?
Shopping for a bathtub can be overwhelming, which is why Nicemoco has simplified the process with helpful filters to help you find the best freestanding bathtub for your bathroom. Once you reach the main Nicemoco website page, you can select the icon Bathtubs and you will see Nicemoco's wide range of bathtubs. You can narrow your search by clicking the relevant filter that suits your needs. Site filters display exterior product length, width, overflow drain depth, installation type, shape, product material, product color, surface finish, drain location, style, and massage type. Follow these easy steps to help you efficiently shop online and choose the best type of freestanding bathtub for your bathroom renovation or remodeling project.
1) Select Bath Size
When you're trying to figure out how to choose a freestanding bathtub, the first factor you need to consider is size, because you have to choose the best freestanding tub for your space. The size of the bathtub depends on the available space in your bathroom as well as your personal needs, such as length and depth. Before you start shopping for a tub, you'll want to measure the space with a tape measure. You need to allow at least 4 inches of space between the tub and the bathroom wall for easy installation and maintenance. Once you know the measurements, you can cross-reference them with the minimum dimensions you need for your tub.
The product details section shows the external dimensions of the bathtub, including length, width, and height. You should also check the technical documentation section for details as well as product drawings, BIM files, and installation guides.
The length of the bathtub depends on the space available in your bathroom, but you must also remember to choose a bathtub that is spacious and comfortable. It is important to check the outside and inside lengths of the tub. The large tub, which is over 70 inches long, is perfect for individuals taller than 6 feet or couples who like to bathe together. If you're over 6 feet tall but have a small bathroom, a deep soaking tub is a great option. On Nicemoco's tub product page, under the main features section, you'll find an icon for people over 6 feet and an icon for extra-deep tubs.
It is important to know the width of the tub, as well as the width and height of all doorways and passageways in the building where you plan to install the tub. To avoid shipping and installation problems, you should choose a bathtub that can pass through all entrances with ease. Once you know your tub width, you can choose the correct filter under the Internal Product Width section. Nicemoco offers a special line of tubs, up to 32 inches wide, designed to fit through narrow entryways. All bathtubs in this category have a special symbol below the key feature indicating that it will fit through 32-inch doorways.
2) Measure Your Body Parameters
The next step is to measure your height, leg length, shoulder width, and hip width. Knowing your body parameters when shopping online is very important to help you find the best tub for your body type. We recommend using a flexible measuring tape that is commonly used for sewing. This will give you a more accurate reading than a metal tape measure. You can ask a friend or family member to help you, as it will be easier if they measure for you. Remember to write down each measurement right away to make sure you're recording the correct number. When measuring your height, make sure you are standing as tall as possible and that the tape measure is completely straight and in line with your body part.
3) Choose A Bathtub Style
After you have used our demo videos and 3D Body App to view and test different bathtubs to see which suits your body type, you can finally choose the bathtub style that best suits your bathroom design. Nicemoco's wide selection of bathtub styles offers endless interior design possibilities including Traditional, Timeless, Contemporary, Scandinavian, Japanese, Japanese, Rustic, Natural, Industrial, Transitional, Beach Style, Kid Friendly, Tropical, Mediterranean, transitional, nautical, victorian, futuristic or royal. You can use the style filter on the Nicemoco website, selecting classic or modern to help you narrow down your options.
Nicemoco specializes in transforming classic-style bathtubs to make them more comfortable and suitable for modern homes. In the 19th century, the Clawfoot bathtub was the epitome of luxury and indulgence. The Piccolo Clawfoot by Nicemoco combines popular old designs with some modern features such as clean lines, adjustable height, and stone feet with a wooden varnish finish.  The Emmanuelle slipper is a contemporary adaptation of the Victorian slipper bath, exuding elegance, and glamour. Both the Piccolo and Emmanuelle feature ergonomically designed sloped walls that provide support for the neck and shoulders.
Nicemoco offers 112 contemporary bathtubs in different shapes, sizes, colors, and materials. Some of our most spacious freestanding solid surface tubs for large bathrooms include the boat-inspired Lillian tub, the stunning  Illusion, and the gut-shaped  Karolina tub. If you're looking for a compact, modern freestanding solid surface bathtub for your contemporary bathroom, the rectangular  Claire,  Lullaby Mini,  extra deep  Sophia, and round  Aura Mini combine compact dimensions with comfortable interiors.
If you're looking for a unique bathtub that combines tradition with modernity, you can check out the Japanese  True Ofuro, a modern take on the classic Japanese soaking tub. Perfect for small bathrooms, the True Ofuro is compact in size, and the extra depth of the tub allows even the tallest bathers to benefit from a full-body soak. Nicemoco offers a wide range of True Ofuro models for sale in different sizes, styles, materials, and colors to suit your personal and design needs.
Safety is an important factor when you're trying to figure out how to pick a freestanding bathtub for an accessible bathroom.  The Baby Boomer 2  Solid Surface Walk-In Tub is designed to provide a safe and enjoyable bathing experience for people of all ages and disabilities, featuring grab bars, low entry steps, and an easy-access door. Another great option for an accessible bathroom is the  Colletta solid surface tub, which has a low wall of just 19.75 inches, making getting in and out of the tub super easy. Colletta combines elegant Italian style with clean Scandinavian design.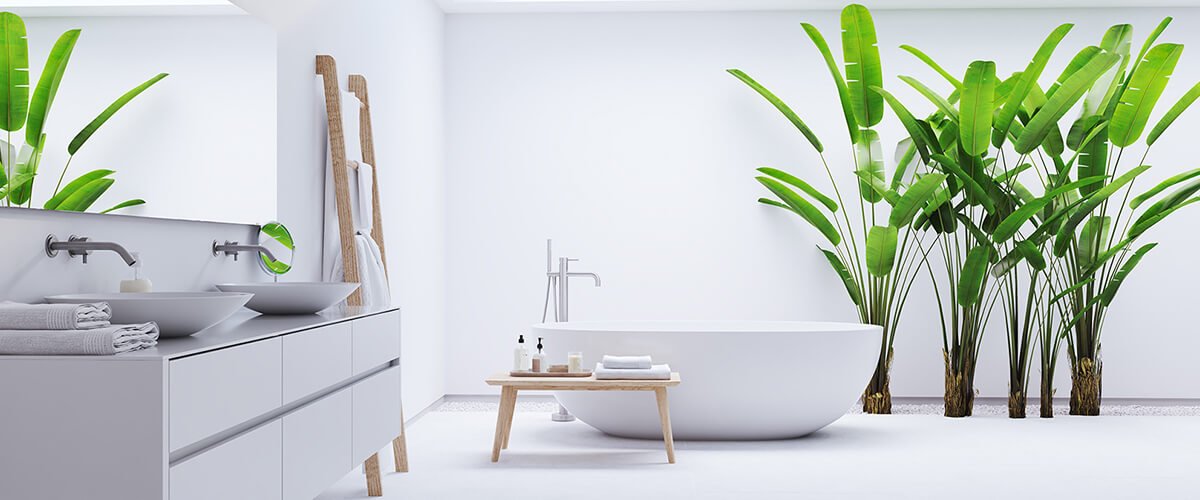 4) Select Function Type
Once you've chosen your size and style, it's time to choose your preferred tub type. Nicemoco offers soaking, and tubs equipped with hydromassage and air massage technologies for individuals who prefer a therapeutic underwater massage. If you want to turn your bathroom into your own spa sanctuary, you can choose a treatment package on the product page under the Product Modifications section.
Bathtubs equipped with the Tranquility system provide a warm and comfortable soak thanks to an efficient recirculation system with heating that provides a constant water temperature in 20-minute increments for hours on end. The system features an ultra-quiet circulation pump, temperature control, mood-enhancing chromotherapy LED lighting, and an easy-to-use glass keypad.
The Relax Air Massage package is perfect for bathers who prefer a relaxing underwater massage. With different air massage pressure modes, a chromotherapy system, and a control keypad, the bather can fully relax and benefit from a therapeutic air massage. The Relax Pro takes the air massage experience to the next level with heated air massage and ozone water circulation.
Designed to provide the ultimate home spa experience, the Nicemoco Bathtub with  HydroRelax Pro delivers stimulating heated hydro massage. The state-of-the-art capacitive glass keypad allows you to easily control all spa functions including pumps, air massage, chromotherapy, and water temperature systems.
5) Material Options
Material type is an important factor to consider when you're figuring out how to choose a freestanding tub. It is important to purchase a tub made of durable materials that are non-toxic.  You can read about the different types of quality materials that Nicemoco offers on the Product materials page. You can then use the product filters on the bathtub page to choose your preferred material.
Loved for their beautiful stone-like aesthetic, variety, and texture, solid surfaces are one of the most popular material choices for luxury bathtubs. Nicemoco's state-of-the-art solid surface material, AquateX™, developed in-house at our EU facility, is inert, non-toxic, durable, and easy to clean. The matte surface is soft to the touch and has a silky texture, while the material's sturdy interior ensures excellent heat retention. AquateX™ bathtubs are available in matt or high-gloss finish (  AquateX™ LuX  ).
Under the Product Modifications section of the product page, you can choose a handcrafted exterior finish for your bathtub. The default color is white, if you want to buy the tub in a different exterior color, please choose your favorite color. Available in 200 colors on the RAL chart, you can choose a custom RAL finish to find the exact color to match your bathroom decor. Nicemoco's artisans apply several coats of paint to protect the product, enhance durability and guarantee optimum color retention. You can also choose a tub with a MetalX liquid metal paint finish such as gold, bronze, brass, or bronze. The variety of liquid metal finishes available and the option to mix them in different proportions offers endless color and surface texture possibilities.
If you're looking for a black tub, Nicemoco's black solid finish offers eye-catching looks and durable quality. This is one of the best tub materials for homeowners who want to make an eye-catching design statement in their bathroom. All products made from NeroX™ include  NanoGuard™ protection for superior everyday performance.
Sandstone And Concrete Solid Surfaces
Solid surface bathtubs with nature-inspired or industrial looks are a popular design trend. The growing demand for sustainable materials with authentic aesthetics has inspired Nicemoco to develop Sleek Concrete and Sandstone. Sleek Sandstone is made from recycled seashells and is ideal for natural-style bathrooms, while Sleek Concrete offers the authentic look and texture of concrete and is perfect for industrial-style bathrooms.
Wood is a great material if you want to create a luxurious bathroom with warmth and unique charm. Wood offers a variety of interior design possibilities from modern to rustic. It is important to buy a bathtub made of high-quality wood that is completely waterproof to prevent any kind of damage. Nicemoco uses LegnoX™, a specially formulated resin impregnated with natural wood, for our wooden bathtubs. Nicemoco offers different species of fine woods including American Walnut, Rosewood, Sapele, Oak, Ash, Maple, Rosewood, and Teak.
Acrylic is one of the most popular bathtub materials because it is lightweight, affordable, durable, and easy to repair. Nicemoco's bathtubs are made from high-quality acrylic sheets supplied by Lucite International UK, one of the world's leading acrylic manufacturers. This particular type of acrylic is tested for ten years of aging and is guaranteed to wear. Additionally, it is hygienic, easy to clean, and highly resistant.
Advanced Lightweight Compound
If you're wondering how to choose a bathtub or spa for outdoor use, you can check out Nicemoco's proprietary high-gloss composite, DurateX™. This is one of the best lightweight materials for outdoor and indoor bathtubs and hot tubs. The Nicemoco DurateX bathtub is a great addition to your garden, terrace, solarium, outdoor bathroom, or gazebo. It has excellent resistance to UV rays, redness, chemicals, and foaming (brominated and chlorinated water) and can withstand changes in air and water temperature.
6) Choose Tub Filler
The faucet is another factor to consider when you are deciding how to choose a freestanding tub. Nicemoco offers taps in different shapes, sizes, colors, materials, finishes, and installation types. The type of faucet you choose depends on the style, shape, size, and location of your tub. It is important to purchase the correct type and style of installation to perfectly match your freestanding tub. Nicemoco offers a wide range of bath mixers, including electronic,  bench-mounted,  floor-mounted, and wall-mounted, in different sizes, materials, and finishes.