Before purchasing replacement bathroom fixtures, consider taking the time to research your options. Of course, your bathroom needs a sink, but don't forget about indoor storage for items like toiletries, personal care products, and clean towels. Sinks, cabinets, vanities – choose the one that suits your style and best meets your needs. That said, is there a difference between a bathroom vanity and a bathroom cabinet? In today's guide, we'll be comparing the two, so read on to learn more.
1. How the bathroom vanity was born
But before that, let's try to find out where the dresser came from. It is said that before the advent of indoor plumbing, dressers were part of the bedrooms of modern houses. A vanity is basically a table with a built-in basin. This arrangement is to allow people to wash their hands and faces in the evening and morning without having to go to the restroom.
Modern bathroom vanities can be as large as a large piece of furniture and feature ample storage space. It can make the bathroom look grand and spacious. When you don't have enough space to experiment with things, you can opt for cabinets. Even with a simple design, the sink can be placed on cabinets to create a unique look.
2. Bathroom Vanity vs. Bathroom Cabinet
What is the difference between cabinets and dressers? What immediately comes to mind is that although the vanity is larger, the cabinets are relatively small. Yes, this is definitely a major differentiator.
1) Definition
During the bathroom remodel research and planning process, you will come across the terms "bathroom cabinet" and "bathroom vanity." In most cases, the information in front of you cannot clearly distinguish one term from another. The two can even be used in the same sentence, and while that's okay, you should be aware that there are some differences between the two.
A bathroom vanity with a sink on top is immediately considered a vanity; however, not all vanities are considered cabinets. For example, if you have cabinets in your bathroom for extra storage and don't have a sink on top, then all you have is a bathroom cabinet, not a vanity. A bathroom vanity consists of a sink, countertop, and surrounding enclosed storage unit. Cabinet doors under the sink close to hide exposed pipes. Some bathroom vanities incorporate plenty of cabinet space for storage, while others mostly hide plumbing and provide minimal storage.
2) Design
The second differentiator is design. There is a mirror in front of the cabinet, which is usually placed in a higher position. In this case, it is always mounted on the wall. The most commonly chosen location for mirrored bathroom cabinets is above the sink or basin. There are no fixed rules for choosing the material for a mirror cabinet. It can be made from wood, marble, or a combination of the two. A designer bathroom vanity is like a small cupboard where you can keep your bathroom essentials.
Bathroom vanities are a popular type of bathroom furniture that combines a countertop with a sink. Of course, it can also have additional features. Modern bathroom vanities may have exquisite lighting, architectural details, built-in shelves, and other features.
3) Size
Kitchen cabinets are usually 24 inches deep. The bathroom vanity is 21 inches deep. If your bathroom is smaller, it can even be shallower. They also tend to be shorter, around 30 to 34 inches tall, compared to the standard 36-inch kitchen cabinet height. But remember, you can always customize the size and height that works best for your bathroom.
4) Both are used for storage but different
If you want to consider other differentiating aspects between designer bathroom cabinets and vanities, you might consider storage. The vanity can be used to hold all your bathroom needs including towels, toiletries, and more. The cabinet can be used to store some bathroom supplies, but not all. This is the trend. Cabinet dimensions must be proportional to the bathroom sink. It can give your bathroom a stylish look and add a style factor.
In today's design world, there are no fixed limits or boundaries. Everything is flexible. You can choose any style you want for your bathroom, cabinets, or vanity, as long as they serve your functional purpose.
Cabinets can be created in many intricate designs and shapes to look like a dresser. The dressing table can be small, but the cabinet has greater functional value. Their roles may overlap. Bathroom sinks and cabinets can match, look similar, or be designed as a single or double vanity. You must have noticed that the lines between kitchen cabinets and vanities can blur in certain types of designs, but by definition, they are still two separate entities.
Most modern bathrooms place the sink and cabinets in the corners of the room, but this is not a design rule. You can use it as a centerpiece in your bathroom along with your bathtub. Whether you should choose a cabinet or vanity in your bathroom will depend on your personal taste and available space.
If you have multiple bathrooms in your home, you are less likely to be stuck in the dilemma of choosing a bathroom vanity or a bathroom cabinet. You can use a vanity in one bathroom and cabinets in another to experiment with different designs and looks.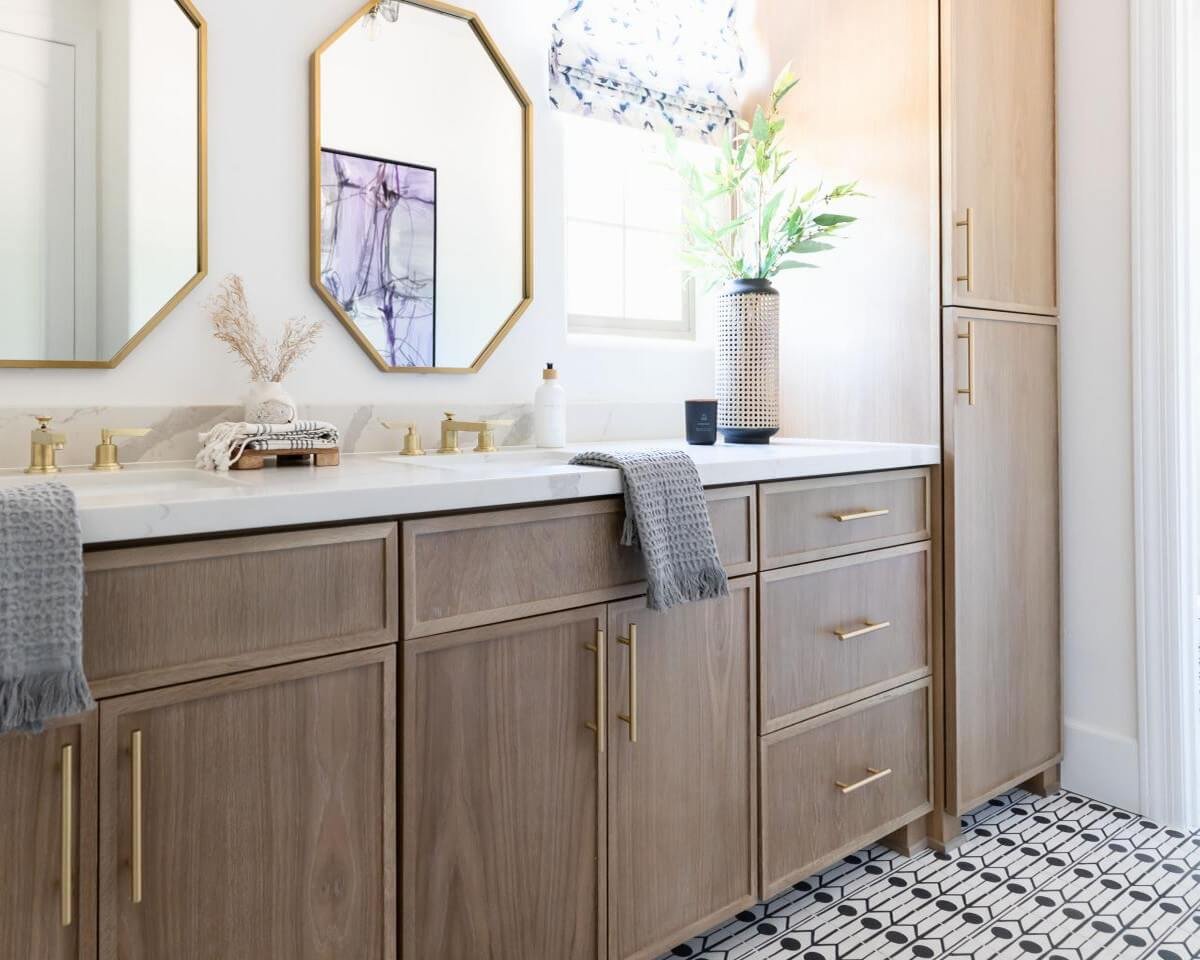 3. How to design a dressing table suitable for the bathroom
So what about dresser designs? There are some things to consider when choosing the best product for your bathroom design.
Depending on how much space you have available, this will vary.  Is your bathroom on the smaller side or the larger side? Smaller bathrooms are better suited to a low-profile vanity. These are usually floating bathroom vanities. They give you the illusion of having more space, as well as extra space under the vanity.
2) Sink
How many sinks do you want? Ideally, if you're interested in having two sinks, you'll want the vanity to be at least 60 inches (5 feet) wide to provide elbow room for everyone. Double bathroom vanities are popular and allow for two separate spaces – one for you and one for your partner.
3) Purpose
If you're designing a powder room, your needs are going to be very different than those of a family-friendly hall bath or a luxurious master suite. The more frequently a bathroom is used, the more you need to consider storage capacity and maintenance requirements.
Additionally, you also need to consider the countertop that will be placed on the vanity as well as the mirror. A new vanity completes the substantial renovation of the bathroom. On the other hand, if you are looking for extra storage space, cabinets are ideal.
4. Conclusion
The growing demand for the highest quality cabinets and vanities can be traced back to the need for modern homes to maintain a stylish appearance. Additionally, it increases the property's value. Contrary to what people think, installing bathroom cabinets and vanities is not an expensive affair. Of course, they do cost money, but you can do it while sticking to a tight budget.
Differences do exist between bathroom cabinets and kitchen cabinets, although they are similar in style, finish, and installation. Remember, the bathroom cabinets are not connected to the sink – those are the bathroom vanities. Cabinets in bathrooms tend to be shallower than those in kitchens. They're also shorter, but you can customize the size and height to best suit your bathroom. The above is the summary of the differences between bathroom vanities and bathroom cabinets in this article. Nicemoco can answer any other questions you may have.