Are you looking for a bathroom vanity for your home or business? There are different brands offering bathroom vanities in China. But if you are buying for the first time, here are some factors you need to consider before buying:
Where can I buy bathroom cabinets in China?
What are the best bathroom cabinets in China?
Through this article, we hope that the details in this article will help you in your search for a good bathroom vanity manufacturer. Here, we highlight the top ten brands. But before we start, let us first discuss the main regions of China's bathroom vanities industry.
1. Main industrial areas of bathroom vanities in China
Chinese bathroom vanities come mainly from three regions. These include:
Guangdong (Foshan, Jiangmen, Chaozhou)
The region produces a comprehensive range of bathroom sanitary. These include hardware and ceramic bathroom vanities. The production areas include Foshan, Kaiping, and Zhongshan. Production is also available in other areas of Guangdong, including Chaozhou. At present, Guangdong is the region with the largest number of well-known bathroom brands. The area also houses brands that produce high-quality bathroom vanities. No other production area can compete with this region in terms of industrial intensification.
( Quanzhou, Fujian)
( Taizhou, Zhejiang)
If you pay attention to product quality, purchase bathroom vanities from Guangdong. The region produces high-end, high-quality bathroom products. But if budget is the deciding factor, you can head to Fujian and Zhejiang. These areas produce quality bathroom products at affordable prices.
2. Top 10 bathroom vanities rankings
1. Jomoo
2. Arrow
3. Kohler
4. Moen
5. FAENZA
6. BDC
7. SHKL
8. Dongpeng
9. SSWW
10. HEGII
The above is the top ten bathroom vanities rankings in China. Let us introduce you to the detailed information of each brand.
1) Jomoo
The following is a detailed introduction to the Jomoo brand.
Jomoo brand was established in 1990, specializing in the production of bathroom vanities. This includes bathroom and kitchenware. Furthermore, the brand integrates all production levels to produce top quality. Integrating scientific research, service, production, and sales. This makes them a one-stop shop.
Jomoo is headquartered in Nan'an City, Quanzhou City, Fujian Province, China. It is a multifunctional brand with more than 5,000 high-end bathroom specialty stores and more than 200,000 sales outlets around the world. In addition, Jomoo remains one of the largest bathroom vanities manufacturers in China, and it is also one of the major suppliers of bathroom vanities.
The brand has an innovative technical team of approximately 5,000 people. These teams have obtained more than 12,000 technology patents. The Jomoo brand also has 21 IF Design Awards and 75 Red Dot Design Awards.
Jomoo brand has 25 subsidiaries and more than 10,000 bathroom vanities stores. It also has more than 300,000 sales outlets in 120 countries.
Kitchen cupboard
Wardrobe
Bathroom
Whole house water supply system
Balcony
Ceramics
and stones
#4. Reasons for recommendation
Kitchen cabinets, wardrobes, bathrooms, whole house water systems, balconies, ceramics, stone.
2)ARROW
The following is a detailed introduction to the ARROW brand.
ARROW brand has eight functional production plants in Guangdong Province. Two more factories are under construction. In addition, the ARROW brand has ten production bases in China. This Chinese brand was established in 1994 as a large-scale manufacturing enterprise. More importantly, it is engaged in the production of architectural sanitary ceramics. In addition to manufacturing, the ARROW brand is also engaged in product sales. It produces home accessories from ceramic tiles to bathroom and wardrobe fittings.
ARROW's Guangdong headquarters covers an area of ​​4 million square meters. The brand also has ten production bases in China. In addition, the Arrow brand has more than 5,000 active personnel. In addition, it has 6,000 sales outlets in China.
Smart bathroom
Ceramic tile
Wardrobe
and custom home
#4. Reasons for recommendation
ARROW is a household name in China and has influence all over the world. It is a major brand in China's architectural bathroom manufacturing industry. It is also engaged in large-scale sales of sanitary ceramics.
3) Kohler
The following is a detailed introduction to the Kohler brand.
The Kohler brand was founded in 1873 and is one of the largest family-owned companies in the United States. This is an American bathroom brand. In 2002, it owned the Asian subsidiary Kohler Investment Co., Ltd. Kohler's Asia Pacific headquarters is also located in Shanghai.
The brand produces products including kitchen and bathroom products. It has furniture and interior decoration. At the same time, it also belongs to the hotel industry. Kohler owns standard golf courses and hotels around the world.
Today, Kohler Brands employs more than 20,000 people in 50 factories around the world. It remains the top brand in the production of kitchen and bathroom accessories worldwide. Its philosophy of "elegant living" makes it an ideal choice for those who pursue beauty and quality.
Its main products are
Faucet
Toilet
Wash basin
and other hygiene products
#4. Reasons for recommendation
The Kohler brand remains one of the top bathroom manufacturers in China. It is engaged in the production of sanitary and architectural ceramics. It has strength and influences around the world.
4) Moen
The following is a detailed introduction to the Moen brand.
The brand entered the Chinese market in 1994 and has its first sales brand in the Shanghai Waigaoqiao Free Trade Zone. In addition, it is also famous for its production of high-end faucets. It also produces kitchen basins and other kitchen and bathroom accessories. It has a wide variety of products. These include taps, pendants, and kitchen basins. Moen products have users in a wide range of fields. Other areas include hotels, villas, rooms, and offices.
Moen Brand is an American brand with offices in Shanghai and Beijing. And has offices in Guangzhou and Chongqing. The sales network of the Moen brand covers more than 300 cities in China.
#3. Business scope
Its main products are
Kitchen basin
Faucet
and bathroom hardware accessories
#4. Reasons for recommendation
Moen products combine beauty, artistry, functionality, and superior quality.
5) FAENZA
The following is a detailed introduction to the FFAENZA brand.
FAENZA is committed to the mass production of bathroom vanities and ceramic tiles. The brand was established in 1999 and is engaged in the production of household products. This is a well-known brand with influence in every corner of the world.
FAENZA The purpose of the FAENZA brand is to integrate art and life through its products and services. It aims to create a consumer living space that combines high-grade art. Their products are always elegant.
The brand has more than 2,300 sales outlets. It also holds more than 170 authorized patents. It has 8 first-class production bases with complete functions. Two additional production sites are under construction.
Smart toilet seat
Bathroom Cabinet
and bathtub
Ceramic bathroom vanities
Shower room
Kitchen
and bathroom faucets
and hardware pendants
#4. Reasons for recommendation
FAENZA's products are high-end quality products and are currently sold to 86 countries and regions around the world. FAENZA has a complete global sales network, with hundreds of city agents in China and nearly 100,000 special sales terminal stores around the world.
6)BDC
The following is a detailed introduction to the BDC brand.
The brand is one of the world's leading suppliers of high-end bathroom vanities. Its products cover kitchen and bathroom supplies. Headquartered in China, it has branches around the world. BDC has R&D and production plants in Vietnam and the United States. These production bases possess advanced production technology. Their best-in-class quality management system also helps ensure top-notch products.
#2. Factory information
The brand collaborates with renowned industrial designers to produce its products. It also takes into account the environment during production. It is produced using raw materials such as ecological board and ecological lead-free brass.
This brand uses homemade CNC cutting machines imported from Germany. It also adopts a pure glue fully automatic CNC edge sealing process. BDC imports advanced casting equipment from Italy and South Korea. Japan provides precision CNC finishing for the BDC brand. Other advanced production lines are also available from BDC.
The BDC brand is currently one of the most modern production facilities in the world.  Their factory covers an area of ​​150,000 square meters. It also employs thousands of people. The BDC brand, which focuses on research and development, has three international standard laboratories. BDC is also a one-stop shop integrating R&D, design, production, and sales.
Sanitary ceramics
Cleaning tools
Bathroom furniture
Leisure bathroom
and other related accessories
#4. Reasons for recommendation
Provide you with safe and comfortable bathroom and kitchen supplies.
7)SHKL
The following is a detailed introduction to the SHKL brand.
SKHL bathroom brand is located in Foshan and focuses on manufacturing high-end products. Their products range from bathroom vanities to bathroom vanities. Foshan Shengkanglai Bathroom Vanities Co., Ltd. was established in 2004 and has three design centers. These design centers are independent of each other. In addition, it has eight branches and three production facilities.
The SHKL brand combines all areas of production, including research and development and marketing. This helps ensure that their products appeal to their target consumers.
SKHL has more than 5 multi-brand ecological matrices and is a major brand in China. Its business covers more than 600 major provincial capital cities in China. The brand also has more than 800 stores in China.
Bathroom Cabinet
Shower room
Toilet
Ceramic bathroom vanities
and hardware faucets
#4. Reasons for recommendation
SKHL has a great reputation for producing the finest wooden bathroom cabinets.
8) Dongpeng
The following is a detailed introduction to the Dongpeng brand.
The Dongpeng brand integrates all production factors to ensure top-quality products. Design, research and development, production, sales, and service are all integrated. The products provided by Dongpeng cover a wide range of fields. These niche markets include ceramics, bathroom furniture, and smartphones. It also has products in the leisure segment and leading hardware segments.
Dongpeng has production bases in Foshan, Yongchuan, Jiangxi, and Guangdong. Other areas with bases include Jiangmen, Heshan, Fengcheng, Chongqing, etc. This ensures that their products reach their target consumers.
Dongpeng has more than 20 years of experience in the bathroom industry. It has more than 1,500-star service outlets across the country. These outlets offer five-star services and home bathroom solutions. More than 20 million families around the world have witnessed Dongpeng's high-quality services.
Sanitary ceramics
Bathroom furniture
Leisure bathroom
Smart bathroom
Faucet hardware
and kitchen hardware
#4. Reasons for recommendation
Dongpeng is a major brand in China's bathroom vanities industry.
9) SSWW
The following is a detailed introduction to the SSWW brand.
Founded in 1994, SSWW is one of China's leading bathroom brands. Have strength and influence around the world. SSWW integrates R&D, production, and sales. It also provides hygiene products and services. Also known as Langjing bathroom vanities, this brand has achieved great results. These achievements span many areas of health. These include; smart toilets and bathroom cabinets. It also produces hardware showerheads, bathtubs, and shower rooms.
The brand is committed to bringing comfort to families around the world. By producing comfortable sanitary ware, it achieves this goal.
In China, the brand has more than 1,500 product sales outlets. It also has a complete service network. The network aims to provide consumers with a full range of services. Their service is always efficient and of high quality. That's why most Chinese people like them.
Smart toilet
Hardware shower
Bathroom Cabinet
Tub
and shower room
#4. Reasons for recommendation
SSWW is a leading brand in the production of comfortable bathroom ware. It is also a top Chinese brand with global influence.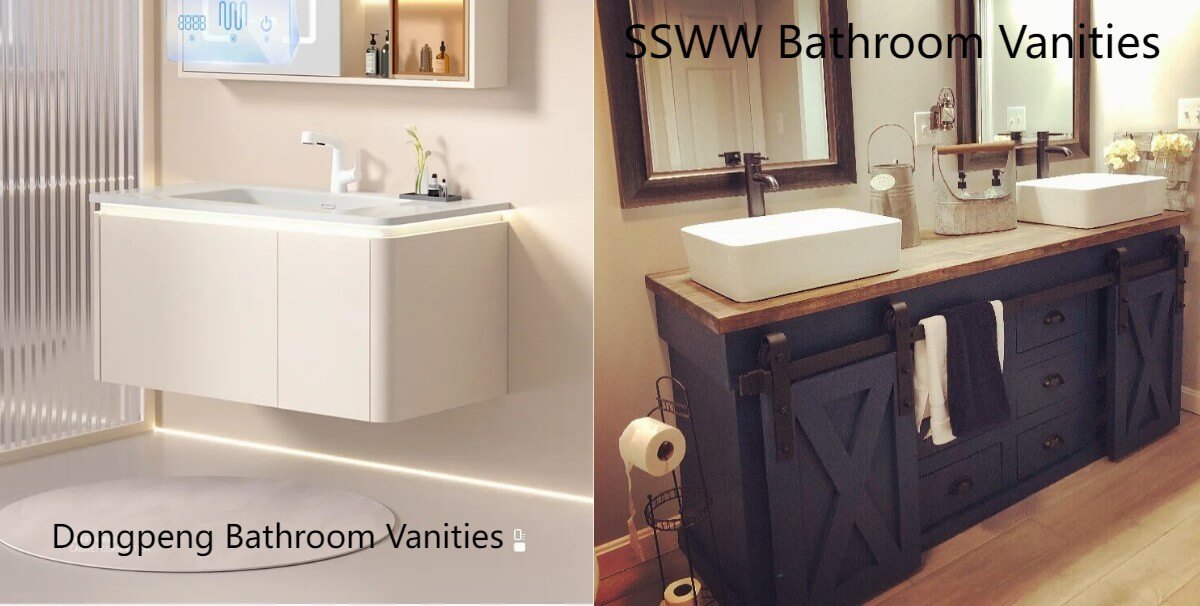 10) HEGII
The following is a detailed introduction to the HEGII brand.
HEGII founded in 1998, is China's leading bathroom brand. It also involves technology, production, sales, and service delivery. The brand has multiple bases dedicated to producing comfortable bathroom products. Their products include; smart toilets, bathroom furniture, and display cabinets. It also produces accessories, faucets, and ceramics.
His brand has an R&D center covering every category of production. Over 4,000 square meters of space are devoted to R&D. Their laboratory is accredited by the China National Accreditation Service for Conformity Assessment. The HEGII brand has more than 400 patented bathroom technologies. It is recognized as a water-saving laboratory and its production process is ecologically protective.
At present, the HEGII brand has more than 3,000 service outlets across the country. Ensure that the product reaches you on time.
Ceramic bathroom vanities
Hardware faucet
Bathroom Cabinet
Smart product
and shower room
#4. Reasons for recommendation
Their products make using bathroom vanities more comfortable. They include smart toilets, bathroom furniture, and ergonomic fittings and taps.
3. Things to pay attention to when buying bathroom sanitary
If you are looking for bathroom products, you have to keep a few things in mind, because there are a lot of scams out there to take your money.
The first and main thing you should pay attention to when checking the manufacturing quality of a product is that you should always check the validity of the product warranty. Never buy products with no warranty or a short warranty period, as they may be made of poor quality.
It is best to remember that you need bulk products; For that, you have to look at the reputation of the manufacturer. The next thing you should remember is to look around before blindly buying a product. You need to know what products are needed around you and globally.
That being said, you're ready to take the first step in getting the hygiene products you want to make your life easier.
Bathroom ware is an important accessory for homes and offices. Getting the right bathroom products is the first step to a proper hygienic lifestyle. There are many bathroom brands in China. This makes choosing the right brand a little difficult. But with the above ten bathroom brands, your choice becomes easy. I hope this article can help you find the right bathroom ware, if you would like to ask other questions, please contact Nicemoco.